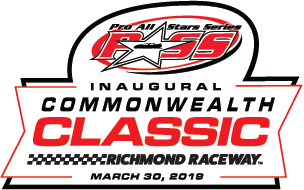 PASS National Championship Event Will Be 100 Laps, Paying $10,000 To Win & $700 To Start
Weekend Will Also Feature Tour-Type Modifieds, ACT Late Models, Street Stocks, & 4 Cylinders Racing Under the Lights
NAPLES, ME (December 21) – Officials from the Pro All Stars Series (PASS) and Richmond Raceway announced today a new date and additional details for the inaugural PASS Commonwealth Classic following last October's postponement of the original date due to weather. The PASS National Championship Super Late Models will headline the inaugural PASS Commonwealth Classic at Richmond Raceway on Saturday night, March 30, 2019. This date was originally mentioned after the postponement in October by Richmond Raceway and PASS officials and was confirmed with today's announcement. The PASS Super Late Models will compete in a 100-lap event on the famed 3/4-mile oval, along with a 75 lapper for the Tour-Type Modifieds. As previously announced, the MASS Street Stocks will race for 40 laps, while the American-Canadian Tour (ACT) Late Models and 4-Cylinders have been added to complete this night of grassroots racing. Optional hauler parking and safety inspection will be held on Thursday, March 28 from Noon to 4 PM. A practice day for all divisions is scheduled for Friday, March 29 from 11 AM to 5 PM. On Saturday, March 30, additional practice will start at 9 AM, followed by qualifying at 1 PM, and racing set to begin at 3 PM, all ending under the lights at Richmond Raceway.
(more…)