Eddie MacDonald Wins the Rain Delayed GSPSS at Thompson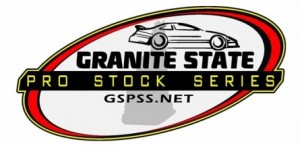 For the second year in a row, Eddie Mac powered to victory in the Granite State Pro Stock Series 50 lap feature in the World Series of Racing at Thompson Motorsports Park on Saturday. Weather played a major role in the three day event washing out the Friday schedule forcing some creative rescheduling to combine two days into one.
Eddie Mac only managed one brief morning practice on Friday morning before rain moved in forcing officials to final cancel the day's events late in the afternoon. The Saturday schedule remained in a state of flux Saturday morning due to a constant drizzle. The Granite State qualifying was wiped out and only a five lap practice was squeezed in with the starting race grid established by points. Eddie Mac's EXIT Realty/Hancock Electric/Grimm Construction Chevy started the race 13th in the 14 car field.
When the green flag finally flew after 8:00 pm., Eddie Mac was on the move early and by the first caution restarted in the second spot behind the #93 car. For the next 24 laps and two more caution flags, Eddie Mac and the #93 driven by Ray Christian battled door to door with the Rowley, Mass. veteran hanging on the inside groove before taking the lead on lap 38. Once out front, Eddie Mac quickly drove to a comfortable five to six car length lead to the checkered flag twelve laps later.
"We really wanted this win for our great friend and teammate for my entire racing career, John JT Tiernan who passed away recently," said Eddie Mac after the race. "His service was this morning and we had to miss it in order to be here. Johnny was with me when I first started racing when I was a teenager and taught so many of us through the years and was the voice of reason to a bunch of gung ho kids. JT was an outstanding paint and body man who knew aero long ago but most of all he was and is a beloved friend and member of our family and we miss him every day. So this win is extra special."
"I thank Joe Wood who filled in for Rollie this weekend," said Eddie Mac. "Joe is the owner of Pathfinder Chassis located in Wisconsin and we have run two races out there with Joe and he was kind enough to volunteer to come out here to crew chief the car and help get the win. Joe really worked great with our crew that is always willing to do anything to help our team. They are an awesome group of people and we certainly could not do this without their commitment. Thanks to Denise and Darcy Lemieux and Kerry Rinaldi for all the food they cooked for all of us. We are definitely spoiled and appreciate their efforts."
"Thanks also to our car owner Dave Lemieux, Lemieux Builders, and Brian Neal, Neal Excavating, for everything," said Eddie Mac. "We are fortunate to have them along with help from Derek Beatrice from EXIT Realty, Ken and Scott Thompson from Hancock Electric, Freddie Peterson from Peterson Auto Body, and Rob Grimm from Grimm Construction. Thanks also to Schroth Racing, HMS, and Arvo Auto for their help. It is incredible the number of great people with us every race and we are forever thankful."
Eddie Mac and the crew will compete Saturday, October 19 in the PASS race at Oxford Plains Speedway and will return to Seekonk the following week in the Freddie Peterson owned Super Late Model for both races.