PRO STOCK TOUR HEADS TO MONCTON FOR IRVING OIL 150 THIS SATURDAY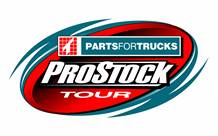 (Halifax, NS – July 10, 2019) The Parts for Trucks Pro Stock Tour is headed to Petty International Raceway, located just outside of Moncton, NB for this Saturday's Irving Oil 150. The 150-lap feature marks round six of 12 for the popular regional touring series. Approximately 20 teams from across the Maritimes are expected for Saturday's event. Qualifying for the Irving Oil 150 will take place at 6:00 PM with Atlantic Tiltload Heat Races. Tickets for the Irving Oil 150 will be available at the gate on race day.
The championship chase becomes front of mind for drivers as we hit the halfway mark of the 2019 season. Dylan Blenkhorn (Truro, NS) sits on top of the standings with a 22 point lead over Canada Day 150 Victor Jonathan Hicken (Brudenell, PE). Jarrett Butcher (Porter's Lake, NS) is having a break-out season and currently sits third, just 38 points behind Blenkhorn. Craig Slaunwhite (Terence Bay, NS) and Dylan Gosbee (Cornwall, PE) are still well within the hunt and round out the top five respectively as we head into the Irving Oil 150.
Fans will also be treated to an on-track autograph session with the cars and stars of the Parts for Trucks Pro Stock Tour prior to the Irving Oil 150. We will be giving away some prizes courtesy of our friends at Irving Oil during the autograph session. You could also become a winner by showing support to your favourite driver – bring a sign, wear their gear, or just cheer the loudest! Follow along on instagram (@irving_oil) and tag your race day pictures with #irvingfun!
The Leisure Days RV Bandoleros, Mister Transmission Mini Stocks and Maritime League of Legends will all race on the undercard prior to the Irving Oil 150.
Admission for Petty International Raceway on Saturday is $30.00 for adults, $10.00 for youth (8-18 years old); pit admission is $35.00. Children 7 and under are admitted for free.
EXPECTED ENTRY LIST – Irving Oil 150
#02 – Craig Ward – Riverview, NB
#03 – Stephen Halpin – Saint John, NB
#08 – Nicholas Naugle – Dartmouth, NS
#0- Shawn Turple – Enfield, NS
#2- Ashton Tucker – Miramichi, NB
#5 – Jonathan Hicken – Brudenell, PE
#8 – Kent Vincent – Westmoreland, PE
#14 – Terry Dougay – Albany, PE
#18 – Darren MacKinnon – Charlottetown, PE
#21 – Shawn Pierce – Bridgewater, NS
#29 – Greg Proude – Springvale, PE
#32 – Sarah McKay – Quispamsis, NB
#44– Russell Smith Jr – Lakeside, NS
#48 – Waylon Farrell – Conception Bay South, NL
#54 – Jarrett Butcher – Porter's Lake, NS
#67 – Dylan Blenkhorn – Truro, NS
#91 – Dylan Gosbee – Cornwall, PE
#99 – Craig Slaunwhite – Terence Bay, NS