By: Dick Casey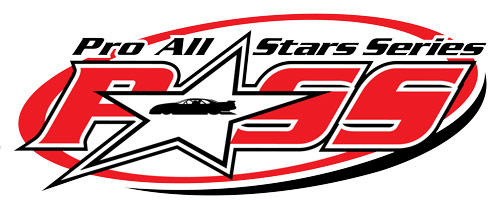 Eddie MacDonald Posts 13th Place Finish in PASS Race at Oxford
Eddie Mac battled the new car blues in the Pro All Star Series' Honey Badger Bar and Grill 150 at Oxford Plains Speedway, Maine on Sunday, April 28 to post a 13th place finish. With Saturday practice virtually wiped out by rain, the team simply did not have enough track time to ready the new Freddie Peterson owned Camaro for the event.
"We were working on it right up to the last minute and having it ready for the race was in doubt, " said Eddie Mac. "We came to the track hoping to get some idea of what we needed but losing Saturday really hurt us. We did the best we could during the Sunday morning practice but it wasn't enough. There are so many variables with a new car it takes a lot of practice and testing to dial it in and we didn't have it. We will get it but we know we need more time."
The EXIT Realty/Hancock Electric Camaro qualified fifth in the third of three heats and started 15th in the 33-car feature. When the green flag waved, Eddie Mac was able to advance the Dale Shaw built #17ma into ninth place by the first caution flag on lap 19 of the 150 lap event. Restarting the race on the inside again allowed Eddie Mac to gain two more positions into seventh place by the next caution on lap 39. However, Eddie Mac had to start eighth on the outside with a lapped car staring in front of him and that exposed the fatal flaw.
"I really didn't expect to be real racy today but when we started and the car was going so well on the bottom I thought maybe we will be able to race the top guys," said the Rowley, Mass. racer. "However, as soon as I had to start on the outside the car was so loose I could not make any move to the front. We slid back and lost a number of spots. On the next caution flag (Lap 89), Rollie (LaChance) and the crew made adjustments but I had to start on the outside again and I just couldn't pass anyone. It was like that the rest of the way. At that point we were just trying to learn as much as we could, so we made another adjustment (caution lap 135) but I was just hanging on by then. We managed a 13th place finish but we will get the handle on this car and be back contending for the win."
"I have to thank my crew who suffered through the rain, cold and wind and did everything they could to help as they always do. Rollie and I rely on Tom Rice, Jolene and Rob Drandson, Laura and Ryan LaChance, Kenny Grooms, Hoppy, and Dick Casey and they never disappoint," said Eddie Mac. "Thanks also to our sponsors: Derek Beatrice from EXIT Realty in Middleton, Mass., Kenny and Scott Thompson from Hancock Electric in Quincy, Mass., and Rob Grimm from Grimm Construction in Waymart, Pa., as well as, HMS Motorsports and Schroth Racing. And of course, we owe it all to our car owners Sheila and Freddie Peterson from Peterson Auto Body in Peabody, Mass."
"Our race team wants to send our best to the mother our other car owner Dave Lemieux. Barbara is battling some health issues now and we know she will be back in the stands cheering us on in the near future," said Eddie Mac. "She is at a lot of the races and cooks great food for the team and we appreciate everything she does. She is a real sweetheart! Get well soon Barbara!"