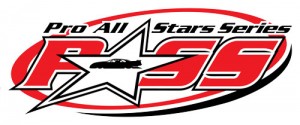 Busy Weekend Set For PASS North Finale At Seekonk Speedway
NAPLES, ME (October 24) – For the first time since 2010, the final race for the Pro All Stars Series (PASS) North Super Late Model season will be at a track other than Oxford Plains Speedway. On Saturday afternoon, New England's fastest Super Late Models will complete for 150 laps at Seekonk Speedway in Massachusetts, along with the Haunted Hundred for the Tri-Track Open Modified Series. It will be the first time PASS has held an event on the quarter-mile track at Seekonk since 2012.

The championship fight for the Northeast's most prominent Super Late Model championship has come down to a battle between two former series champions. New Hampshire's DJ Shaw has a 25-point advantage over Maine's Travis Benjamin as they each seek their third series titles.
After struggling to a 23rd place finish at Beech Ridge which allowed Benjamin to close the gap, Shaw has been able to get the better finishes in the last two races to set the margin to where we currently are heading to Seekonk.
The two most recent PASS North Super Late Model winners, Reid Lanpher at Oxford Plains and Nick Sweet at Thunder Road, will all be among the favorites to challenge the championship contenders on Saturday afternoon at Seekonk. Former Oxford 250 winners, Curtis Gerry, Wayne Helliwell, Jr., and Ben Rowe will be in the field, along with PASS National Championship contenders, Derek Griffith and Ray Christian, III. Derek Ramstrom will be looking to run well in his home state, along with PASS regulars, Gabe Brown and Garrett Hall.
While the PASS North season will conclude this weekend, the PASS National Championship and PASS South seasons will finish up on Saturday, November 10 with the 13th Annual Mason-Dixon MegaMeltdown 200 at Hickory Motor Speedway. It was recently announced that the MegaMeltdown will air on MAVTV as part of Speed 51's Short Track America and will also include a $1,000 to win MASS-rules Street Stock race and Legends cars in action.
Entry forms and the complete weekend schedule for Seekonk Speedway and Hickory Motor Speedway are now available at ProAllStarsSeries.com.
All the action this weekend gets under way on Friday afternoon with pit gates opening at 10 AM and optional practice for all competing divisions from 12 – 5 PM. On Saturday, gates open at 8 AM, with practice from 10 AM to 12 Noon, and racing for the PASS North Super Late Models, Tri-Track Open Modified Series, and Late Models beginning at 1 PM.