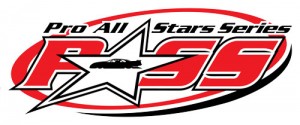 Pro All Stars Series Super Late Model racers chase Gary Smith at Beech Ridge Motor Speedway
Scarborough, Maine — Gary Smith of Bangor claimed his second career Pro All Stars Series Super Late Model win, and his first-ever Beech Ridge Motor Speedway victory, in the 150-lap main event at the historic Scarborough, Maine racetrack on Sunday afternoon.
Smith, 62, was ecstatic after outrunning his chassis builder, nine-time Oxford Plains Speedway champion Jeff Taylor of Farmington, to the checkered flag. The victory knocked an important entry off his bucket list. Smith joins a small list of Maine racers who have won premiere division events at all six modern-era asphalt racetracks in their home state.


More Photos
Smith chased Westbrook's John Peters in the early stages of the race, and once in front he was never seriously challenged, although it looked for a short while like former Beech Ridge champion Reid Lanpher of Manchester might provide a test, but a spin after some contact took Lanpher out of contention for the victory while battling Taylor for second spot.
Taylor managed to hang on to second position in just his second appearance this year behind the wheel. Curtis Gerry of Waterboro, Maine rebounded from a bad heat race and almost going a lap down to Smith in the middle stages of the race to claim a third-place finish. Scarborough's Garrett Hall arced among the contenders throughout the 150-lapper to end up in fourth place.
Travis Benjamin of Belfast, Maine made up a lot of ground in the 2018 PASS North Super Late Model championship contest, posting a fifth-place finish while the points leader, DJ Shaw of Center Conway, New Hampshire, was relegated to a 22nd-place finish after being sent into the backstretch wall. Donnie Colpritt, Jr. of Scarborough, Trevor Sanborn of East Parsonsfield, Alan Tardiff of Goodwins Mills, Lanpher, of Manchester, and Windham's Brandon Barker rounded out the top ten.
Wayne Whitten, Jr. of Arundel made his PASS Mods debut a memorable one, driving from dead last on the starting grid to win the 40-lap race after a seven-year absence from the cockpit of a racecar. Whitten took the lead away from Bruce Helmuth of wales, who looked to be headed to victory lane for the second time this season when he gave Whitten enough room to get by, and the rusty veteran took advantage of the opportunity.
Waterford's Spencer Morse, in just his fourth appearance in the class, came up one spot short of scoring his second victory, racing right on Whitten's rear bumper as they flashed under the checkered flag. Helmuth ended up in third position, with Gary Shackford of Center Conway, New Hampshire and Stetson's Wayne Allard filling out the top-five rundown.
Terry Merrill of Saco came out on top in a highly-competitive, wildly-entertaining 50-lap race for the Beech Ridge Sport Series regulars. Merrill stalked an intense battle in front of his machine for most of the race, as first Scarborough's Charlie Sanborn III and then Devin Curit of Saco waged intense battles for the lead with newly-crowned Sport Series champion Joe Pastore of Gorham.
Those battled helped open the door for Merrill, who found room to race underneath his rivals as they swapped paint and caved in sheet metal. Alex Lacognata made a late charge into second place as the checkered flag, with Pastore recovering to post an impressive third-place finish when all was said and done.
Durham's Kenny Harrison and Sanborn rounded out the top five. Sanborn and Pastore were the heat race winners and they waged a side-by-side battle for nearly 15 laps to open the main event.
Billy Childs, Jr. of Leeds outran the competition in a special 50-lap open race for Oxford Plains Speedway Street Stocks, Beech Ridge Wildcats and other similar racing divisions. Childs chased Buckfield's Kyle Treadwell for almost half the race before outrunning Gray's Tyler King to the checkered flag.
Treadwell's third-place finish finished off a podium sweep for the invaders, with Adam Lovejoy of Sanford best among Beech Ridge weekly racers in fourth place. Greene's Zach Bowie rounded out the top five. Lovejoy and Treadwell won 10-lap heat races.
The next Pro All Stars Series North Super Late Model event is scheduled for this Friday night, September 28, at Thunder Road International Speedbowl in Barre, Vermont. Post time is 6:00 p.m. For more information please visit proallstarsseries.com or call (207) 539-8865.
Results from the September 23 Pro All Stars Series North Super Late Model 150 at Beech Ridge Motor Speedway; Scarborough, Maine, showing finishing position, car number, driver's name, driver's hometown:
Pro All Stars Series North Super Late Model (150 laps) 1 75 Gary Smith, Bangor, ME; 2 88 Jeff Taylor, Farmington, ME; 3 7 Curtis Gerry, Waterboro, ME; 4 94 Garrett Hall, Scarborough, ME; 5 7 Travis Benjamin, Belfast, ME; 6 16 Donnie Colpritt, Jr., Scarborough, ME; 7 29 Trevor Sanborn, East Parsonsfield, ME; 8 9 Alan Tardiff, Goodwins Mills, ME; 9 59 Reid Lanpher, Manchester, ME; 10 88 Brandon Barker, Windham, ME; 11 81 Dan Winter, Windham, NH; 12 27 Wayne Helliwell, Jr., Dover, NH; 13 51 John Peters, Westbrook, ME; 14 40 Nick Sweet, Barre, VT; 15 12 Corey Bubar, Windham, ME; 16 12 Derek Griffith, Hudson, NH; 17 4 Ben Rowe, Turner, ME; 18 44 Rusty Poland, Windham, ME; 19 61 TJ Brackett, Buckfield, ME; 20 60 Tim Brackett, Buckfield, ME; 21 24 Mike Rowe, Turner, ME; 22 60 DJ Shaw, Center Conway, NH; 23 90 Craig Weinstein, East Walpole, MA; 24 47 Kelly Moore, Scarborough, ME; 25 9 JT Thurlow, Windham, ME; 26 90 Derek Kneeland, Sebago, ME; 27 8 Calvin Rose, Jr., Turner, ME; 28 53 Billy Rodgers, Old Orchard Beach, ME; 29 46 Dennis Spencer, Jr., Oxford, ME.
PASS Mods (40 laps) 1 12 Wayne Whitten, Jr., Arundel; 2 34 Spencer Morse, Waterford; 3 25 Bruce Helmuth, Wales; 4 60 Gary Shackford, Center Conway, NH; 5 15 Wayne Allard, Stetson; 6 10 Derek Kneeland, Sebago; 7 14 Mark Napolitano, North Yarmouth; 8 2 Randy Sanborn, West Baldwin; 9 33 Billy Dixon, Waterboro; 10 19 Ben Tinker, New Gloucester; 11 85 jariet Harrison, Freeport; 12 16 Patrick Sullivan, Poland; 13 35 Kristina Nadeau, Buxton.
Sport Series (50 laps) 1 12 Terry Merrill, Saco; 2 14 Alex Lacognata, Scarborough; 3 20 Joe Pastore, Gorham; 4 85 Kenny Harrison, Durham; 5 1 Charlie Sanborn III, Scarborough; 6 4 Curtis Gleason, South Portland; 7 8 Clyde Hennessey, Windham; 8 5 Devin Curit, Saco; 9 20 Frankie Wear, Scarborough; 10 27 Richard Pelton, Scarborough; 11 15 Mike St.Pierre, Buxton; 12 28 Nate Leavitt, Buxton; 13 07 David Charest, Westbrook; 14 84 Matt Dow, Hollis; 15 2 Travis Lovejoy, Waterboro; 16 54 Nick Campbell, Arundel; 17 31 Shawn Brackett, Scarborough.
Wildcat/Street Stock Open (50 laps) 1 1 Billy Childs, Jr., Leeds; 2 11 Tyler King, Gray; 3 44 Kyle Treadwell, Buckfield; 4 9 Adam Lovejoy, Sanford; 5 21 Zach Bowie, Greene; 6 61 Matt Dufault, Turner; 7 12 Skip Tripp, Norway; 8 62 Nick Stanley, Oxford; 9 36 Nathan Leavitt, Buxton; 10 1 Ed Connolly, Scarborough; 11 75 Tucker Cole, Saco; 12 27 Patrick Thorne, Standish; 13 81 Lewis Anderson, Buxton; 14 84 Troy Morse, Bridgton; 15 64 Matty Sanborn, Windham; 16 8 Michael Roe, West Paris; 17 99 George Haskell, Casco; 18 47 Brian Caswell, Hollis.