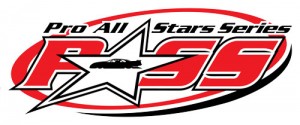 PASS Returns To Action In Granite State At White Mountain
NAPLES, ME (September 12) – Following the success of the 45th Annual Clark's Scrap Metal Oxford 250, the Pro All Stars Series (PASS) North Super Late Models return to action this weekend at White Mountain Motorsports Park in New Hampshire. Saturday night's 150 lapper in the Granite State will be part of the NAPA Blue & Gold Weekend 25th Anniversary celebration, which will also see more racing on Sunday afternoon at White Mountain.

One of New Hampshire's favorite racing sons, Hudson native Joey Polewarcyzk, will join the PASS competitors as they battle towards the 2018 championship. Joey Pole, as he is known by his fans, hopes he can find his way back to victory lane, while DJ Shaw and Travis Benjamin battle it out as they try to claim their 3rd PASS North titles. As a matter of fact, his first career PASS North Super Late Model win actually came at White Mountain.
"We are really looking forward to getting back to White Mountain, we were able to get a win there in 2016, but haven't been able to get back since then," said Pole, driver of the Pole's Automotive Ford #97. "White Mountain's a fast, banked quarter-mile and things can happen fast there. You have to take care of your equipment and drive off the bottom to run well at the end at White Mountain. Should be a great weekend, with great weather!"
A strong field of entrants have signed up including former PASS National champion, Ben Rowe, as well as former Oxford 250 winner, Glen Luce, and this year's Oxford Plains Speedway champion, Gabe Brown. New Hampshire hotshoe, Derek Griffith, is entered, along with Derek Ramstrom, Garrett Hall, Reid Lanpher, Nick Hinkley, Chad Dow, Dennis Spencer, Jr., and Jason Corliss.
On Saturday, rotating practice begins at 1 PM, with heat races at 6 PM, followed by features for the PASS North Super Late Models, Tigers, Minis, Dwarf Cars, and Kids Trucks.
Entry forms for White Mountain, Beech Ridge Motor Speedway, and Thunder Road International Speedbowl, along with the inaugural PASS Commonwealth Classic at Richmond Raceway, are available at ProAllStarsSeries.com.