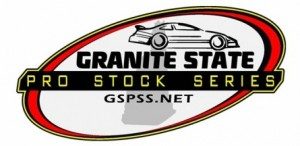 Reid Lanpher Wins The New England Short Track Showdown With Last Lap Pass
GRANITE STATE PRO STOCK SERIES PRESENTED BY SPRINGFIELD BUICK GMC
WALPOLE, NH. Reid Lanpher Wins The New England Short Track Showdown With Last Lap Pass
Using the outside groove on the final lap, Reid Lanpher of Manchester, ME took home the victory at New Hampshire Motor Speedway. "The bottom groove was working really good, but I knew he wasn't going to give it to me on the last lap there" Lanpher said. "A few laps prior, I tried it up on the outside and I could get a really good run off." "Eddie is an incredibly talented driver and its really is a cool feeling to pass him here at New Hampshire Motor Speedway."

Finishing a hard fought second, Eddie MacDonald of Rowley, MA battled with third place finisher Derek Griffith for many laps in the second half of the race. "He just upset my car with him on the outside" MacDonald said. "It was a great battle with him, it's always fun to race with Derek, he's a good racer but my car just wasn't fast when he was on the outside of me, so it was good to finally be able to clear him."
Former series champion in 2015 Derek Griffith of Hudson, NH hung on to third as Lanpher and MacDonald pulled away. "I had a blast racing with and outside of Eddie, it was fun as I could get a killer run up off turn 2 but he'd just get me at the end of the back straight" Griffith said. When asked if he would return to his home track July 15th at Hudson International Speedway Griffith replied "As of now yes." "I spend every Sunday I have off up there, and it's where I started racing."
Abington, MA driver Nick Lascoula was near the top of the charts throughout the morning and finished fourth. "We kept to small changes throughout the morning as we were pretty fast, we didn't want to go in the opposite direction so, we kept taking small swings." Lascuola said. Cory Casagrande of Stafford Springs CT finished a strong 5th. "We had some good positives heading into the next race at Lee USA Speedway July 6th" Casagrande said. "My guys had some great adjustments at the halfway pit stop to get us back headed towards the front."
Results are currently un-offcial pending engine inspection of the first and second place finishing cars Reid Lanpher and Eddie MacDonald, to be completed later this week.
Un-Official Results: Reid Lanpher, Eddie MacDonald, Derek Griffith, Nick Lascuola, Cory Casagrande, Ben Rowe, Dennis Spencer Jr, Joey Doiron, Devin O'Connell, Jacob Dore, Ryan Kuhn, Josh King, Scott MacMichael, Zig Geno, Ray Christian III, Heywood Herriot, Mike Scorzelli, Gabe Brown, Matt Frahm, Jeremie Whorff.
The next Granite State Pro Stock Series Presented By Springfield GMC will be Friday, July 6th at Lee USA Speedway. For more information visit our website www.gspss.net and follow our social media channels via Facebook, Twitter, and Youtube.