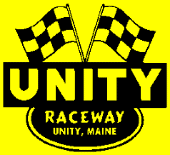 Unity, Maine — Dean Fuller of Albion won his second straight Late Model feature race Saturday night at Unity Raceway, in just his second start of the 2012 season.
Fuller, a champion in the old Pro Stock class at Unity a decade ago, roared from the back of the field twice, aided in part by a restart incident that forced race leader (and point leader) Ajay Picard of Palmyra to the pit area.
Fuller roared by Waldoboro's Will Collins shortly thereafter, then outran Burnham's Brian Whitney to the checkered flag. Collins held on for a third-place finish. Picard rebounded to claim a fourth-place finish, in front of Chelsea's Dan Trask. Picard won the heat race.

Ryan Robinson of Clinton won the Wildcat main event by about an inch over Craig Robbins of Montville. Robinson and Robbins battled side-by-side for most of the 20-lap distance, thrilling the grandstand crowd as point leader Brent Chase of Burnham followed. Robinson, Robbins and Chase filled the podium, with Chris King of Burnham and Skowhegan's Zach Audet rounding out the top five. George Fernald III of Benton won the heat race.
The Wicked Good Vintage Racing Association was on hand, competing in their historical oval track hardware with four classes split into two on-track 20-lap events.
Wally Henderson of Litchfield bested Casco's Bob Symonds and Kevin Waterhouse of West Paris in the Wicked Good Late Model class. Paul Pierce of Lincolnville outgunned Hermon's Kris Watson in the Wicked Good Outlaw division. John Lizotte of Freeport was tops in Wicked Good Modified competition, while John Rice of Bristol triumphed in the Wicked Good Sportsman class.
Steve Rackliff of Starks dominated the 20-lap feature race for Late Model Pro Four competitors, surviving several restarts against Clinton veteran Tim Robinson to get the job done. Robinson earned runner-up honors, with point leader Alex Fernald of Benton crossing the line in third position. Norm Cummings, Jr. of Augusta ended up fourth, followed by Scott Horne of Benton. Rackliff was triumphant in the heat race.
Clinton teen racer Kyle Robinson claimed victory with a last-lap move past the previous week's winner, Matt Shaw of Burnham, in the 20-lap Monster Mini Stock main event. It was Robinson's first win since moving up from the Teen Thunder class. Robinson and Shaw were joined on the podium by Tim Collins of Farmingdale. Brent Roy of Vassalboro and Montville's Wes Turner rounded out the top five. Shaw won the heat race.
Nate Tribbett of Richmond worked his way steadily through the pack, passed Waterville's Paul Shorette coming out of the final turn on the final lap and scored victory in the 20-lap Flyin' 4 division feature race. Horette ended up with second-place honors, with Beton racer Henry Boudreau bouncing back to finish third after spinning while leading earlier in the race. Mike Dulaney of Richmond was fourth, followed by Samantha Farnham of Benton. Boudreau won the heat race.
Robert MacDonald of Oakland made a late-race move pay off in the 20-lap Challenger division main event, just beating Ed Archer, Jr. of Skowhegan to the finish line. Bob Corson of Benton led the first half of the race and claimed the third-place trophy. Oakland's John Fortier was the fourth-place finisher, in front of Norridgewock's Rick Sirois. Archer won the heat race.
Kyle Jackson of Fairfield stayed hot in Teen Thunder competition, outrunning Colby Robbins of Montville to the checkered flag. Canaa's Robert Dyer claimed the third-place trophy, in front of Benton'a Adam Fernald. Dyer won the heat race.
Racing action continues every Saturday night at 7:00 p.m. Unity Raceway is located on School Street (Route 139) in Unity, Maine. For more information call (207) 453-2021 or visit unityraceway.info
Late Model (35 laps) 1. 39 Dean Fuller, Albion; 2. 18 Brian Whitney, Burnham; 3. 25 Will Collins, Waldoboro; 4. 99 Ajay Picard, Palmyra; 5. 73 Dan Trask, Chelsea; 6. 7 Danny Smart, Buxton.
Wildcat (20 laps) 1. 2 Ryan Robinson, Clinton; 2. 34 Craig Robbins, Montville; 3. 31 Brent Chase, Burnham; 4. 29 Chris King, Burnham; 5. 19 Zach Audet, Skowhegan; 6. 29 Joe Harriman, Liberty; 7. 91 George Fernald III, Benton; 8. 8 Bryan King, Burnham; 9. 88 Wes Turner, Montville; 10. 53 Andy Turbovsky, Winslow.
Late Model Pro Four (20 laps) 1. 94 Steve Rackliff, Starks; 2. 38 Tim Robinson, Clinton; 3. 91 Alex fernald, Benton; 4. 26 Norm Cummings, Jr., Augusta; 5. 3 Scott Horne, Benton; 6. 5 Bill Ellis, Parkman.
Monster Mini (20 laps) 1. 62 Kyle Robinson, Clinton; 2. 09 Matt Shaw, Burnham; 3. 18 Tim Collins, Farmingdale; 4. 26 Brent Roy, Vassalboro; 5. 88 Wes Turner, Montville; 6. 61 Cole Robinson, Clinton; 7. 56 Paul Jackson, Fairfield; DNS 92 Mike Wilson, Chelsea.
Flyin' 4 (20 laps) 1. 04 Nate Tribbett, Richmond; 2. 35 Paul Shorette, Winslow; 3. 88 Henry Boudreau, Benton; 4. 10 Mike Dulaney, Richmond; 4. 96 Samantha Farnham, Benton; 5. 00 Alica Goodwin, Clinton; 6. 15 Cody Robbins, Oakalnd; DNS 8 Mike Mathieu, Oakland.
Challenger (20 laps) 1. 84 Robert MacDonald, Oakland; 2. 81 Ed Archer, Skowhegan; 3. 88 Bob Corson, Benton; 4. 88x John Fortier, Oakland; 5. 86 Rick Sirois, Norridgewock; 6. 5 Mike Flagg, Montville.
Teen Thunder (12 laps) 1. 01 Kyle Jackson, Fairfield; 2. 15 Cody Robbins, Montville; 3. 70 Robert Dyer, Canaan; 4. 91 Adam Fernald, Benton.
Wicked Good Vintage Racing Association Late Model (20 laps) 1. 155 Wally Henderson, Lichfield; 2. 82 Bob Symonds, Casco; 3. 2. Kevin Waterhouse, West Paris; 4. 64 Scott Tucker, Winthrop; 5. 420 Keith Smalley, Warren; 6. 60 Caleb Willette, Winslow; 7. 1 Neil Martin, Freeport; 8. 151 Rosie Gerry, Lincolnville; 9. 49 Roger Raymond, Palmyra.
Wicked Good Vintage Racing Association Modified (20 laps) 1. 111 john Lizotte, Freeport; 2. 6 Haggie Pratt, Dexter; DNS 22 Hal Clark, Bridgton.
Wicked Good Vintage Racing Association Outlaw (20 laps) 1. 3 Paul Pierce, Lincolnville; 2. 06 Kris Watson, Hermon; 3. 81 Kenny Robinson, East Machias; 4. 38 Bob Guyon, Monmouth; 5. 15 Mike Millette, Brewer; 6. 88 Lyle Turtleotte, Lagrange; 7. 76 Don Mehurn, Lincolnville; 8. 0 Woody Davis, Glenburn; 9. 17 Chris Hogan, Old Town; 10. 13 Tim Reynolds, Bradley.
Wicked Good Vintage Racing Association Sportsman (20 laps) 1. 11 John Rice, Bristol; 2. 3 Shawn racilla, Dover-Foxcroft; 3. 35 Dennis Fish, Livermore.