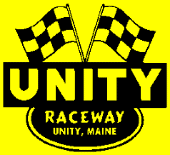 Unity, Maine — Ajay Picard of Palmyra padded his point lead in the Unity Raceway championship standings, racing to his first victory of the season in the 35-lap Late Model main event, topping the stock car racing card at Unity Raceway on Saturday night.
Picard got to the front of the pack quickly and managed to hold off former Unity Raceway Pro Stock champion Dean Fuller of Albion, who was seeking his third straight main event triumph. Fuller had his hands full, claiming runner-up honors after a good battle with Sidney's Kevin Douglass, who ended up in third position aboard the John Clark 21. Danny Smart of West Buxton and Dan Trask of Chelsea rounded out the top five.

Chris King of Burnham cruised to a comfortable victory in the 25-lap Wildcat division main event. George Fernald III of Benton was the best of the rest, holding off Montville's Craig Robbins for runner-up honors. Point leader Brent 'Poochie' Chase of Burnham was fourth, followed by Skowhegan's Zach Audet. Fernald won the heat race.
Tim Robinson of Clinton prevailed in a race long battle with Steve Rackliff of Starks to post a win in the 20-lap feature race for Late Model Pro Four division competitors. Rackliff, a multi-time champion seeking his second straight win, chased the Jimmy Dennis-owned 38 under the checkered flag. Point leader Alex fernald of Benton crossed the line in third position, followed by Skowhegan's Bryan Lancaster and Norm Cummings, Jr. of Augusta. Robinson won the heat race.
Tim Collins of Farmingdale outgunned Brent Roy of Vassalboro to earn a trip to victory lane following the 20-lap Monster Mini Stock main event. Roy settled for runner-up honors after leading the first 17 laps. John Fortin of Vassalboro was the third-place finisher, ahead of Clinton brothers Kyle and Cole Robinson. Roy won the heat race.
Henry Boudreau scored another last-lap victory in the Flyin' 4 division, prevailing in a three-wide dash to the checkered flag. Cody Robbins of Oakland just beat Waterville's Paul Shorette to the checkered flag to claim runner-up honors after Shorette had led most of the 20-lap distance. Mike Dulaney of Richmond and Samantha Farnham of Benton rounded out the top five. Shorette won the heat race.
Ed Archer of Skowhegan took the lead away from point leader Ken Lord of Waterville and drove to victory in the 20-lap Challenger division feature race. Horace Crawford of Fairfield was third in his debut in the class. Mike Flagg of Montville and Benton's Bob Corson rounded out the top five. Archer also won the heat race.
Robert Dyer of Canaan led throughout the 12-lap Teen Thunder division main event, completing a sweep of the evening's competition after winning the heat race. Kyle Jackson of Fairfield finished the main event in second position, followed by Montville's Colby Robbins. Adam Fernald of Benton and Augusta's John Leach rounded out the top five.
After a weekend off, Unity Raceway returns to action on Saturday night, July 28 with the Wicked Good Vintage Racing Association competitors joining the weekly classes on Champion's Night, saluting the best of past years at the route 139 oval track. For more information call (207) 453-2021 or visit unityraceway.info
Late Model (35 laps) 1. 99 Ajay Picard, Palmyra; 2. 39 Dean Fuller, Albion; 3. 21 Kevin Douglass, Sidney; 4. 7 Danny Smart, Buxton; 5. 73 Dan Trask, Chelsea.
Wildcat (25 laps) 1. 29 Chris King, Burnham; 2. 91 George Fernald III, Benton; 3. 34 Craig Robbins, Montville; 4. 31 Brent Chase, Burnham; 5. 19 Zach Audet, Skowhegan; 6. 18 Cody Brassbridge, Frankfort; 7. 20 Joe Harriman, Liberty; 8. 53 Carl McAlpine, Burnham; 9. 88 Wes Turner, Montville; BNS 8 Bryan King, Burnham.
Late Model Pro Four (20 laps) 1. 38 Tim Robinson, Clinton; 2. 94 Steve Rackliff, Starks; 3. 91 Alex fernald, Benton; 4. 81 Bryan Lancaster, Skowhegan; 5. 26 Norm Cummings, Jr., Augusta; 6. 3 Scott Horne, Benton.
Monster Mini (20 laps) 1. 18 Tim Collins, Farmingdale; 2. 26 Brent Roy, Vassalboro; 3. 46 John Fortin, Vassalboro; 4. 62 Kyle Robinson, Clinton; 5. 61 Cole Robinson, Clinton; 6. 84 Michael Bolduc, Windsor; 7. 88 Wes Turner, Montville; DNS 56 Paul Jackson, Fairfield; DNS 51 Mike Mason, Skowhegan.
Flyin' 4 (20 laps) 1. 88 Henry Boudreau, Benton; 2. 15 Cody Robbins, Oakland; 3. 35 Paul Shorette, Waterville; 4. 10 Mike Dulaney, Richmond; 5. 96 Samantha Farnham, Benton; 6. 00 Alica Goodwin, Clinton; 7. 7 John Rizzo, Cape Coral, Florida; 8. 04 Nate Tribbett, Richmond; 9. 15x Tyler Robbins, Montville.
Challenger (20 laps) 1. 81 Ed Archer, Jr., Skowhegan; 2. 28 Ken Lord, Waterville; 3. 88x HoraceCrawford, Fairfield; 4. 5 Mike Flagg, Montville; 5. 88 Bob Corson, Benton; 6. 86 Rick Sirois, Norridgewock; 7. 7 Troy Rusconi, Clinton.
Teen Thunder (12 laps) 1. 70 Robert Dyer, Canaan; 2. 01 Kyle Jackson, Fairfield; 3. 15 Colby Robbins, Montville; 4. 91 Adam Fernald, Benton; 5. 13 John Leach, Augusta.