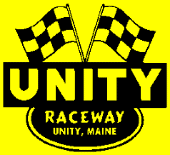 Unity, Maine – Dean Fuller of Albion made his first start of the season in impressive fashion, claiming victory in the 35-lap Late Model feature race, topping the stock car racing card at Unity Raceway on Saturday night.
Fuller, a champion in the ultra-quick Pro Stock class that once topped the weekly card at Maine's Toughest Racing Oval, has made only a handful of appearances behind the wheel since that class was axed from the weekly program some seven years ago, brought the car out a couple of weeks earlier with six-time Pro All Stars series champion Johnny Clark of Farmingdale behind the wheel, and they scored a big victory in the Big John Phippen Memorial Race.

Fuller jumped into the cockpit for the first time this season, took the lead from Palmyra's Ajay Picard, and steadily pulled away from the field to earn his first trip to victory lane since the departure of the Pro Stock class.
Picard went on to score runner-up honors, and unofficially climbed to the top of the championship point standings in the process. He survived a stiff challenge from Sidney's Kevin Douglass, making his first appearance of the season in the John Clark 21.
Frank Moulton of Burnham posted a fourth-place finish, with the top five filled out by Danny Smart of West Buxton, also making his first appearance of the season at Unity Raceway. Moulton won the heat race.
Manchester teenager Reid Lanphear roared from 11th starting position to the front of the pack and drove to victory lane following the 25-lap main event for the visiting NELCAR Legends Cars touring series. Behind Lanphear, early race leader Ryan Hammar of Pembroke, New Hampshire outbattled Newport's Mathew Burgoine for runner-up honors. Bobby Weymouth of Topsham and Terry Kirk of Durham were fourth and fifth, respectively. Matt Grant of Windham and Hammar won 10-lap heat races.
Burnham's Chris King stayed hot in Wildcat division competition, outgunning fellow Burnham racer and division point leader Brent 'Poochie' Chase on several restarts before cruising to victory lane. Chase claimed runner-up honors in the 25-lapper. Wildcat rookie George Fernald III of Benton swapped the race lead with Chase early in the event and bounced back from a spin to post a third-place finish. Bryan King of Burnham made his debut in the class and crossed the finish line in fourth position. Liberty's Joe Harriman rounded out the top five. Chris King won the heat race.
Bill Ellis of Parkman scored his first feature race victory of the season in the 20-lapper for Late Model Pro four division competitors. Ellis led every lap, but it wasn't easy, as he turned back challenges from both point leader and runner-up Alex Fernald of Benton and third-place finisher Tim Robinson of Clinton. Bryan Lancaster of Skowhegan and Scott Horne of Benton rounded out the top five after bouncing back from multiple on-track incidents. Ellis won the heat race.
Matt Shaw of Burnham started dead last and drove to an impressive win by a decisive margin in the 20-lap Monster Mini Stock feature race. Brent Roy of Vassalboro was the best of the rest, leading the early laps before Shaw took command of the race. Tim Collins of Farmingdale finished just about alongside Roy in third position. Teengaed Clinton brothers Kyle and Cole Robinson rounded out the top five. Shaw also won the heat race.
Kyle Jackson of Fairfield made an impressive, last-lap charge past Montville's Colby Robbins to claim top honors in the 12-lap Teen Thunder main event. Robbins, who led all but the last lap, ended up with runner-up honors. Benton's Alex Fernald grabbed the final trophy spot in his Teen Thunder debut. Augusta's John Leach and Robert Dyer of Canaan rounded out the top five. Robbins won the heat race.
Challenger division point leader Ken Lord of Waterville scored yet another victory in his 20-lap main event, getting by early leader and eventual runner-up finisher Ed Archer of Skowhegan at the mid-point of the race. Oakland's Robert MacDonald made a late-race charge into third position. Matt Picard of Unity raced from last starting position to finish fourth. Norridgewock driver Rick Sirois rounded out the top five. Lord won the heat race.
Unity Raceway is back in action Saturday night (July 7) with Holiday Fireworks and a full card featuring all weekly racing series divisions. It's Unity Residents Night, with all hometown fans with proof of residency admitted to the grandstand area at half price. A food drive for the Unity Food Pantry will also be held, with all who donate a food item or cash donation eligible for a grand prize drawing held during the event. For more information call (207) 453-2021 or visit unityraceway.info
Late Model (35 laps) 1. 39 Dean Fuller, Albion; 2. 99 Ajay Picard, Palmyra; 3. 21 Kevin Douglass, Sidney; 4. 15 Frank Moulton, Burnham; 5. 7 Danny Smart, West Buxton; 6. 73 Dan Trask, Chelsea; 7. 25 Will Collins, Waldoboro.
NELCAR Legends Cars (25 laps) 1. 59 Reid Lanphear, Manchester; 2. 2 Ryan Hammar, Pembroke; 3. 38 Mathew Burgoine, Newport; 4. 399 Bobby Weymouth, Topsham; 5. 38x Terry Kirk, Durham; 6. 33 Alan Smith, Lincoln; 7. 81 Dan Winter, Windham, NH; 8. 96 Wyatt Alexander, Ellsworth; 9. 8 Matt Chagnot, Derry, NH; 10. 12 Alicia Perry, Windham; 11. 84 Matt Grant, Windham; 12. 10 Ed Getty, Gray; 13. 49 Pete Cannell, South Berwick; 14. 56 Evan Beaulieu, Durham.
Wildcat (25 laps) 1. 29 Chris King, Burnham; 2. 31 Brent Chase, Burnham; 3. 91 George Fernald III, Benton; 4. 8 Bryan King, Burnham; 5. 20 Joe Harriman, Liberty; 6. 19 Zach Audet, Skowhegan; 7. 2 Ryan Robinson, Clinton; 8. 88x Wes Turner, Montville.
Late Model Pro Four (20 laps) 1. 5 Bill Ellis, Parkman; 2. 91 Alex Fernald, Benton; 3. 38 Tim Robinson, Clinton; 4. 1 Dylan Lancaster, Skowhegan; 5. 3 Scott Horne, Benton; 6. 62 Steve Rackliff, Starks; 7. 81 Bryan Lancaster, Skowhegan; DNS 26 Norm Cummings, Jr., Augusta.
Monster Mini Stock (20 laps) 1. 09 Matt Shaw, Burnham; 2. 26 Brent Roy, Vassalboro; 3. 18 Tim Collins, Farmingdale; 4. 62 Kyle Robinson, Clinton; 5. 61 Cole Robinson, Clinton; 6. 84 Michael Bolduc, Windsor; 7. 88 Wes Turner, Montville; DNS 56 Paul Jackson, Fairfield.
Flyin' 4 (20 laps) 1. 88 Henry Boudreau, Benton; 2. 8 Mike Mathieu, Oakland; 3. 35 Paul Shorette, Waterville; 4. 10 Mike Dulaney, Richmond; 5. 00 Alica Goodwin, Clinton; 6. 20 Kayla Allen, Penobscot; 7. 96 Samantha Farnham, Benton; 8. 15 Cody Robbins, Oakland.
Challenger (20 laps) 1. 28 Ken Lord, Waterville; 2. 81 Ed Archer, Skowhegan; 3. 84 Robert MacDonald, Oakland; 4. 04x Matt Picard, Unity; 5. 86 Rick Sirois, Norridgewock; 6. 5 Mike Flagg, Montville; 7. 88 Bob Corson, Benton; 8. 7 Troy Rusconi, Clinton; DNS 19 Christie Foster, Skowhegan.
Teen Thunder (12 laps) 1. 01 Kyle Jackson, Fairfield; 2. 15 Colby Robbins, Montville; 3. 91 Adam Fernald, Benton; 4. 13 John Leach, Augusta; 5. 70 Robert Dyer, Canaan.
Visit NERacingForum.Com for latest New England Racing community News and updates.
Get the latest New England Racing News in your in box, Join our Newsletter today